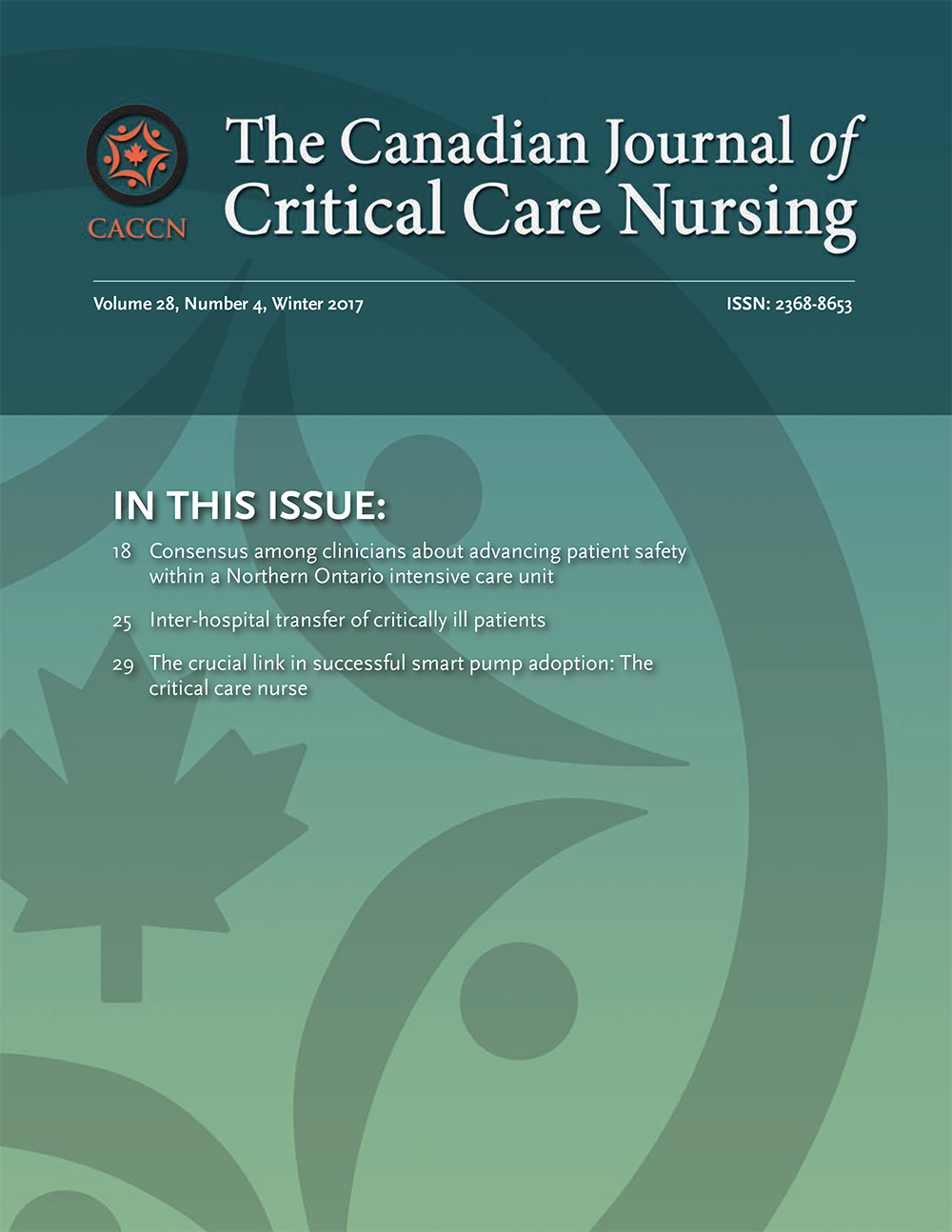 The Canadian Journal of Critical Care Nursing
Formerly Dynamics: The Journal of the Canadian Association of Critical Care Nurses
Advertising Information for 2019
Circulation
The Canadian Journal of Critical Care Nursing (CJCCN) is the only peer-reviewed critical care journal in Canada. Each issue of CJCCN is distributed to members of the CACCN, individuals, and institutions interested in critical care nursing – more than 1,300 in total. The journal covers topics related to clinical care and evidence-based practice, education, management, research and professional issues in critical care nursing.
Publication dates
Spring 2019

Confirmation: January 11
Art submission: January 25
Publication: February

Summer 2019

Confirmation: April 5
Art submission: April 18
Publication: May

Fall 2019

Confirmation: July 5
Art submission: July 19
Publication: August

Winter 2019

Confirmation: October 4
Art submission: October 18
Publication: November

Advertising rates (net, CAD)

Full page
$920.00

1/2 page
$540.00

1/4 page
$370.00

1/8 page
$250.00

Double page spread
$1,660.00

Colour rates

Standard spot colour: Additional $250.00 per colour
Full process colour: Additional $600.00

Premiums

Outside Back Cover: 20% premium
Inside Front Cover: 15% premium
Inside Back Cover: 10% premium
All cover positions — process colour only.
We regret that we cannot offer an agency discount. Terms: net 30 days

All amounts shown are in Canadian Dollars.

Technical information

Trim Size: 8.5 × 11"
Bleed Size: 8.75 × 11.25"
Type page: 6.75 × 9.5"
Half-page horizontal: 6.75 × 4.75"
Half-page vertical: 3.25 × 9.5"
Quarter-page: 3.25 × 4.75"
Eighth-page/business card: 3.25 × 2.25"

Digital files only

High-resolution PDF preferred (300 dpi, CMYK). Email files to heather@pappin.com or call for FTP upload instructions.

---

Additional information

For further information, contact:

Heather Coughlin
Pappin Communications
The Victoria Centre
84 Isabella Street, Unit 2
Pembroke, Ontario
K8A 5S5
Telephone: 613-735-0952
Fax: 613-735-7983
E-mail:

The Canadian Journal of Critical Care Nursing is published for the CACCN by Pappin Communications, Pembroke, Ontario.