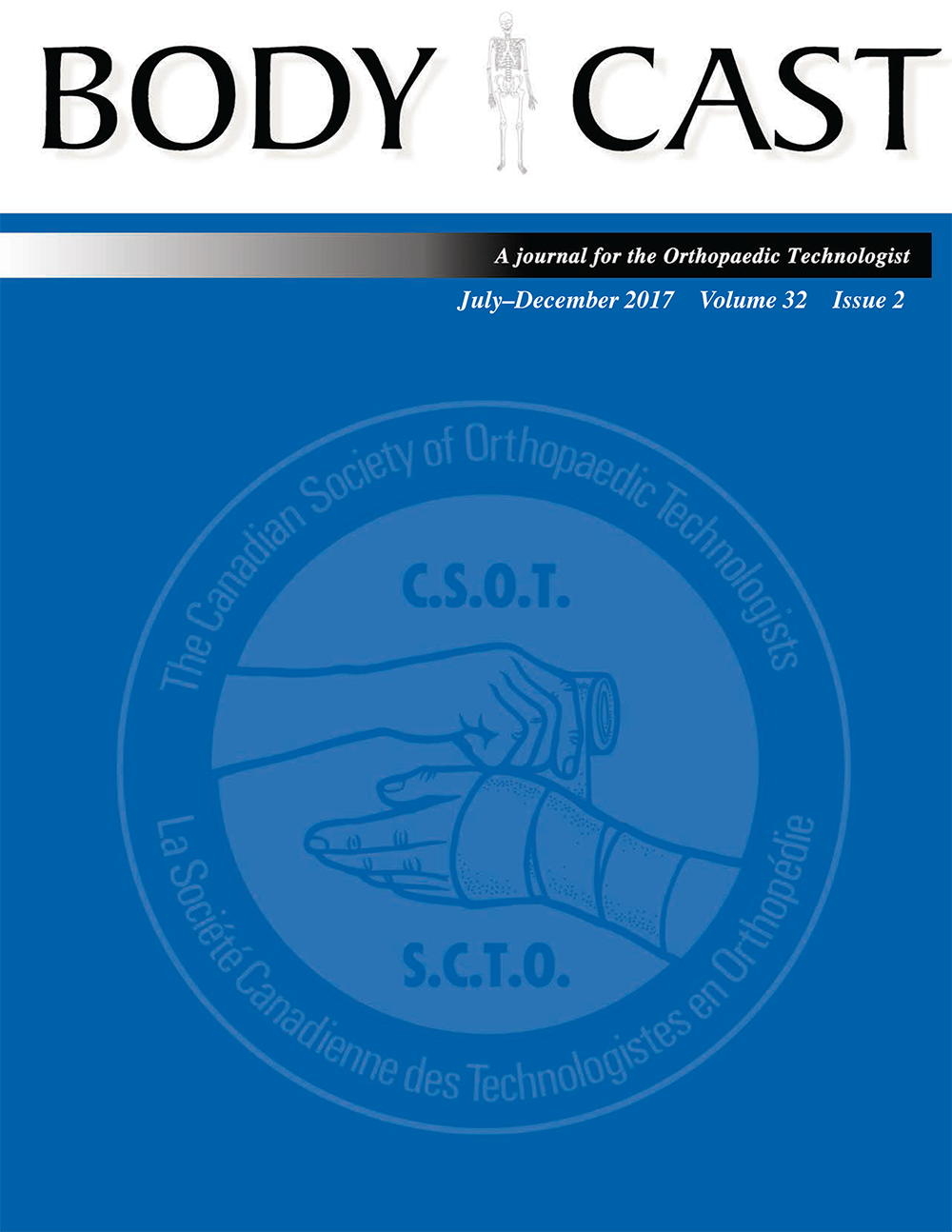 Body Cast
Advertising Information for 2019
Circulation
Body Cast is now published twice per year and distributed to approximately 400 members of the Canadian Society of Orthopaedic Technologists. In addition, the journal is received by a number of hospitals and medical libraries.
Publication dates
Spring 2019

Confirmation: March 15
Art submission: April 1
Publication: April 15

Fall 2019

Confirmation: September 15
Art submission: October 1
Publication: October 15
Advertising rates (net, CAD)
Full page: $470.00
Half page: $370.00
Third page: $330.00
Quarter page: $295.00
Colour rates
Standard spot colour: Additional $250.00 per colour
Full process colour: Additional $600.00
Premiums
No premiums apply to preferred positions.
We regret that we cannot offer an agency discount. Terms: net 30 days
All amounts shown are in Canadian Dollars.
Technical information
Sizes:
Trim size: 8.5 x 11"
Bleed size: 8.75 x 11.25"
Type page: 6.75 x 9.5"
Half-page horizontal: 6.75 x 4.75"; vertical: 3.25 x 9.5"
Third-page: 6.75 x 3"
Quarter-page: 3.25 x 4.75"
Electronic files

High-resolution (300 DPI) PDF preferred. Please include or outline all fonts.
Include all images in CMYK or grayscale.
Mac software versions: Adobe InDesign, Photoshop & Illustrator CS 6.
E-mail files to: , or call for FTP upload instructions.
Additional information
For further information, contact:

Heather Coughlin
Pappin Communications
The Victoria Centre
84 Isabella Street, Unit 2
Pembroke, Ontario
K8A 5S5
Telephone: 613-735-0952
Fax: 613-735-7983
E-mail:
Body Cast is published for the Canadian Society of Orthopaedic Technologists by Pappin Communications, Pembroke, Ontario.