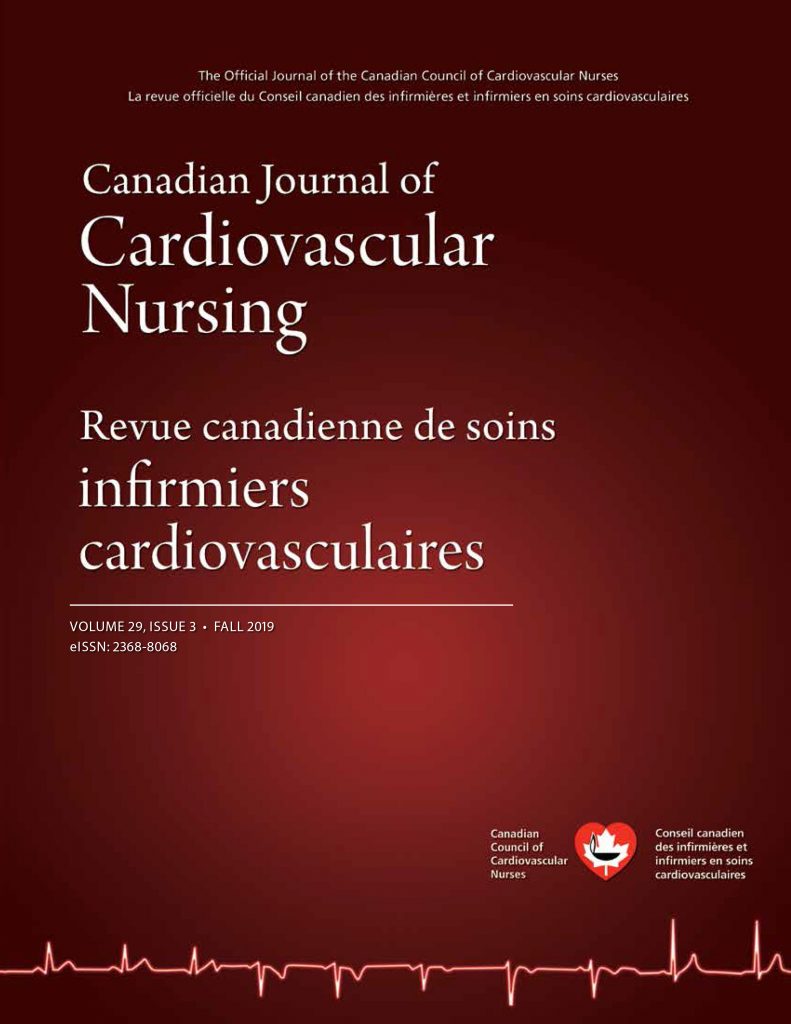 The Official Journal of the Canadian Council of Cardiovascular Nurses (CCCN)
CCCN Contact information
Canadian Council of Cardiovascular Nurses
202–300 March Road
Ottawa, Ontario K2K 2E2
Phone: 613-599-9210, Fax: 613-595-1155
E-mail: david@cccn.ca
Website: www.cccn.ca
Editor: Jo-Ann Sawatsky
The Canadian Journal of Cardiovascular Nursing (CJCN) is the official journal of the Canadian Council of Cardiovascular Nurses (CCCN). The peer reviewed CJCN provides a forum for disseminating timely, original research and other topics related to cardiovascular health and illness, with a focus on the nursing perspective. The CJCN welcomes submissions including: original research, short reports, knowledge synthesis/review papers, commentaries and responses to commentaries, case reports, arts informed scholarship, and other discourse relevant to cardiovascular nursing. As a bilingual journal, the CJCN welcomes submissions in English or French.
Readership
Includes health care professionals who specialize in all areas of cardiovascular care from prevention programs to surgical, medical and intensive care units through to rehabilitation. Nurses are involved in roles in research, education, administration and clinical practice.
Content
Includes original articles concerned with health care issues related to cardiovascular health and illness. The journal provides a forum for discussion of clinical practice, research, literature reviews, and case studies.
---
Advertising Information for 2023
Publication dates:
Spring
Confirmation: March 3
Art: March 10
Publication: April
Summer
Confirmation: July 7
Art: July 14
Publication: August
Fall
Confirmation: November 3
Art: November 10
Publication: December
Advertising rates (net, CAD)
Full page: $975.00
Half page: $675.00
Third page: $540.00
Quarter page: $360.00
Ads will be produced in colour or in B&W as per file provided.
Premiums and discounts:
Outside back cover: +20% premium
Inside front or inside back cover: +15% premium
Discounts: 10% on four consecutive issues
We regret that we cannot offer an agency discount. Terms: net 30 days
All amounts shown are in Canadian Dollars.
Technical information
Trim Size: 8.5 × 11″
Bleed Size: 8.75 × 11.25″
Type Page: 6.75 × 9.5″
Half-page horizontal: 6.75 × 4.75″; vertical: 3.25 × 9.5″
Third-page: 6.75 × 3″
Quarter-page: 3.25 × 4.75″
For further information
Contact:
David Miriguay,
Canadian Council of Cardiovascular Nurses
202–300 March Road
Ottawa, ON K2K 2E2
Tel: 613-599-9210
Fax: 613-595-1155
Email: david@cccn.ca