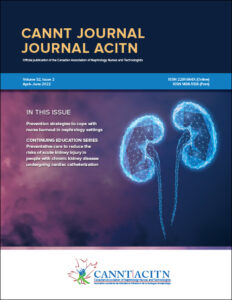 The Official Publication of the Canadian Association of Nephrology Nurses and Technologists
CANNT Administration Office
4 Cataraqui St., Suite 310
Kingston, ON K7K 1Z7
Phone: 613-507-6053
Toll Free: 1-877-720-2819
Fax: 1-866-303-0626
E-mail: cannt@cannt.ca
Website: www.cannt.ca
Editor-In-Chief: Jovina Bachynski
Editor: Rosa Marticorena
The CANNT Journal is a peer-reviewed publication recognized and listed in the International Nursing Index, MEDLINE, and the Cumulative Index to Nursing and Allied Health Literature. Published quarterly and regularly reaching 60 pages in length, the journal is an ambitious vehicle of information and education in the nephrology nursing and technology field.
Readership
Approximately 700 nurses and technologists throughout Canada. CANNT's members' areas of practice include all renal modalities and related therapies.
Content
Themed issues on topics of interest to the nephrology practitioner, and any articles relating to care of patients with renal disease. Issues regularly include continuing education articles, original research papers, relevant clinical articles, innovative quality improvement reports and narratives that describe the nursing experience, as well as practical tips, news on CANNT activities and regular columns on such topics as nephrology and the internet.
The CANNT Journal is published online by EBSCO Information Services.
---
Advertising Information for 2023
Circulation
The CANNT Journal is available to subscribers such as hospital, medical, clinic, and university libraries and members of the Canadian Association of Nephrology Nurses and Technologists on the CANNT website, www.cannt.ca
Publication dates
Issue 1
Confirmation: January 15
Art submission: February 1
Publication: February
Issue 2
Confirmation: April 15
Art submission: May 1
Publication: May
Issue 3
Confirmation: July 15
Art submission: August 1
Publication: August
Issue 4
Confirmation: October 15
Art submission: November 1
Publication: November
Advertising rates (net, CAD)
Full page: $575.00
Half page: $460.00
Third page: $435.00
Quarter page: $405.00
Business-card sized (black and white): $155.00
Premiums
No premiums apply to preferred positions.
We regret that we cannot offer an agency discount. Terms: net 30 days
All amounts shown are in Canadian Dollars.
Technical information
Trim Size: 8.5 × 11″
Bleed Size: 8.75 × 11.25″
Type Page: 6.75 × 9.5″
Half page horizontal: 6.75 × 4.75″; vertical: 3.25 × 9.5″
Third page: 6.75 × 3″
Quarter page: 3.25 × 4.75″
Business card: 3.5 × 2″
Digital files only
(300 dpi, CMYK). E-mail files to heather@pappin.com
Please submit your logo & website URL to be included on the online journal supporter list.
---
Additional information
For further information, contact:
Heather Coughlin
Pappin Communications
1012 Snake River Line
Cobden, ON K0J 1K0
Phone: 613-633-1938
E-mail: heather@pappin.com