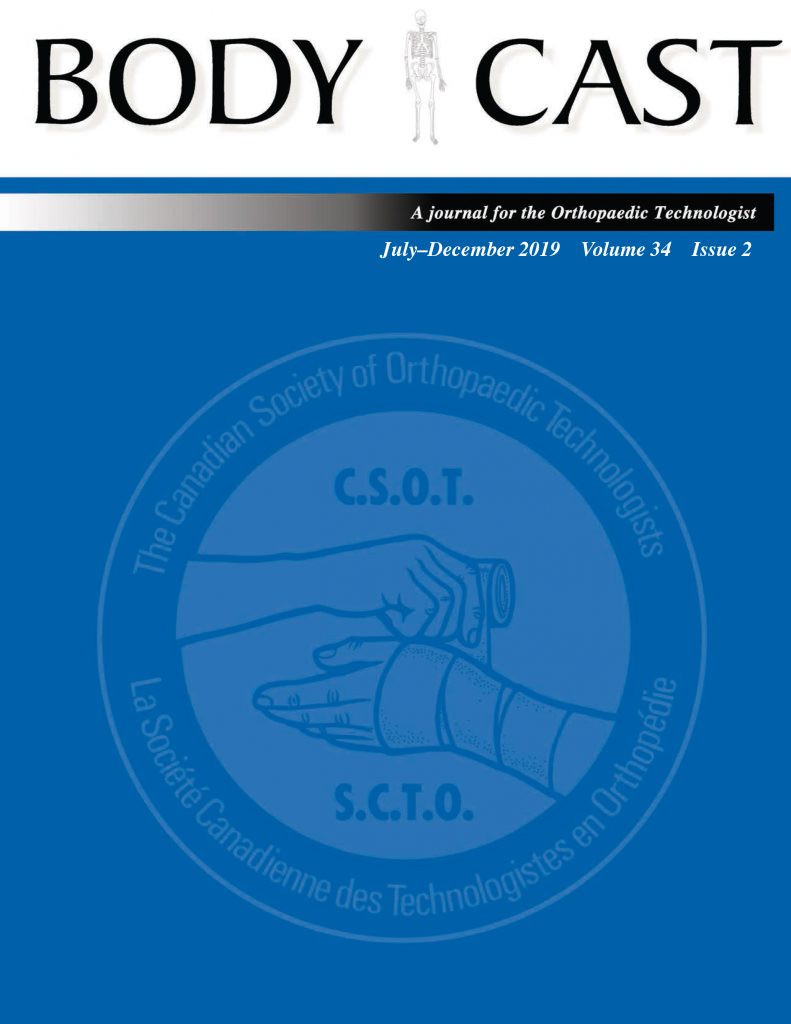 The Official Journal of the Canadian Society of Orthopaedic Technologists
CSOT Office
20 Crown Steel Drive, Unit 6
Markham, ON, L3R 9X9
Ph: 1-289-872-8808 ext 308 / 315
TF: 1-855-416-3917
Fax: 1-905-415-0071
Email: csot@secretariatcentral.com
Website: csot.ca
Body Cast is published twice a year and is distributed to all members of the Canadian Society of Orthopaedic Technologists. The journal is currently in its 35th year of publication. Body Cast is a forum for open and responsible discussion of matters relevant to the field of orthopaedics. Its mission is education, to inform its readers of progress in orthopaedics and of developments in other fields of interest to the orthopaedic technologist.
Readership
Approximately 400 practising orthopaedic technologists working in hospitals and clinics from coast to coast. Body Cast is also sent worldwide to doctors, medical personnel and medical libraries. Physicians in most fracture clinics are also avid "second-hand" readers of Body Cast.
Content
Original material, primarily in the form of practice techniques and case studies. Also included are reprints from leading international orthopaedics publications.
---
Advertising Information for 2023
Circulation
Body Cast is now published twice per year and distributed to approximately 400 members of the Canadian Society of Orthopaedic Technologists. In addition, the journal is received by a number of hospitals and medical libraries.
Publication dates
Spring 2023
Confirmation: March 15
Art submission: April 1
Publication: April 15
Fall 2023
Confirmation: September 15
Art submission: October 1
Publication: October 15
Advertising rates (net, CAD)
Full page: $470.00
Half page: $370.00
Third page: $330.00
Quarter page: $295.00
Colour rates
Standard spot colour: Additional $250.00 per colour
Full process colour: Additional $600.00
Premiums
No premiums apply to preferred positions.
We regret that we cannot offer an agency discount. Terms: net 30 days
All amounts shown are in Canadian Dollars.
Technical information
Sizes:
Trim size: 8.5 x 11″
Bleed size: 8.75 x 11.25″
Type page: 6.75 x 9.5″
Half-page horizontal: 6.75 x 4.75″; vertical: 3.25 x 9.5″
Third-page: 6.75 x 3″
Quarter-page: 3.25 x 4.75″
High-resolution (300 DPI) PDF preferred. Please include or outline all fonts. Include all images in CMYK or grayscale. Software versions: Adobe InDesign, Photoshop & Illustrator CS 6. Email files to: heather@pappin.com
Additional information
For further information, contact:
Heather Coughlin
Pappin Communications
1012 Snake River Line
Cobden, ON K0J 1K0
Phone: 613-633-1938
E-mail: heather@pappin.com