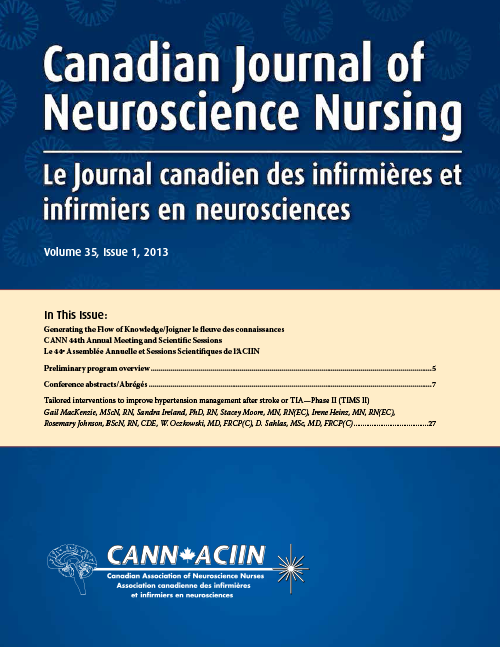 Canadian Journal of Neuroscience Nursing
The official publication of the Canadian Association of Neuroscience Nurses
Advertising Information for 2019
Circulation:
CJNN is published three times per year and posted on the Canadian Association of Neuroscience Nurses (cann.ca) website for members and subscribers.
Publication dates:
Spring 2019

Confirmation: February 1
Art submission: February 15
Publication: March

Summer 2019

Confirmation: July 1
Art submission: July 15
Publication: August

Fall 2019

Confirmation: October 1
Art submission: October 15
Publication: November
Advertising rates:
Net, CAD
Full page: $450.00
Half page: $345.00
Third page: $310.00
Quarter page: $295.00
Premiums and discounts:
Outside back cover: 20% premium
Inside front or inside back cover: 15% premium
Discounts:

10% on three consecutive issues
10% on combined CANN website/CJNN advertising

We regret that we cannot offer an agency discount. Terms: net 30 days
All amounts shown are in Canadian Dollars.
Technical information:
Trim Size: 8.5 × 11"
Bleed Size: 8.75 × 11.25"
Type Page: 6.75 × 9.5"
Half-page horizontal: 6.75 × 4.75"
Half-page vertical: 3.25 × 9.5"
Quarter-page: 3.25 × 4.75"
---
CANN Website advertising information
The official website of the Canadian Association of Neuroscience Nurses provides users with current neuroscience news, award, scholarship and bursary opportunities and timely research reports, in addition to association and membership information, relevant links and more. The site is indexed in many search sites and health sciences sites.
Conferences, workshops and courses will be posted under the "Events" heading.
Job postings will be listed in the "Careers" section.
Corporate ads will be posted or linked as appropriate.
Advertising options & rates
Neuro courses, workshops, conferences: N/C
Career ads: $300.00 for three months
$400.00 for six months
$750.00 for a full year
Corporate advertising: $100.00 per month (websites, products, services, or sponsored events)
Banner ad: $100.00 per month
Tile ad—bottom of page, all pages: $20.00 per month/$200.00 full-year commitment
Tile ad—right-hand sidebar, inside page: $12.00 per month/$125.00 full-year commitment
Take advantage of our 10% discount for combined CANN website/Canadian Journal of Neuroscience Nursing (CJNN) advertising packages
Technical information
Supply text in Word, and all images and logos as JPG, 72 DPI
Banner specs: 1120 × 414 px (JPG, GIF or PNG)
Tile specs: 400 × 175 px; 72 DPI (JPG, GIF or PNG)
Ads will be posted within seven working days whenever possible. Forward material to: heather@pappin.com
The Canadian Journal of Neuroscience Nursing is published for the Canadian Association of Neuroscience Nurses by Pappin Communications, Pembroke, Ontario.